Horns on the woman
A documentary film about the sex industry in Spain. Spain has a 'doblecara' two faces, one side tells one story and the other side another. It's fronteras have become a haven for sex tourism and criminality, the youth look to pornstars as role models and more and more young people visit prostitutes just for fun. Spain has the highest amount of trafficked individuals in Europe and the highest demand for prostitution with 39% of Spanish men paying for sex. Roadside brothels, open highways, and hidden apartments are populated with young immigrant women working. Spain needs a huge change, greater awareness, education and concrete changes to its laws that will stick. We have researched this topic in depth and on these pages you will find facts, reports as well as the documentary reportage from our rigourous investigation. Spain's situation is alarming, as is the scale of human trafficking and the demand for paid sex on a global scale.
You can view our reveal reel here: https://vimeo.com/324856093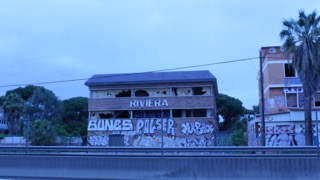 Where the research for this documentary began the previous location of the largest macro brothel in Spain. It was closed because of police corruption.
CAstelldefels - The Trajectory of a small town for 'amantes' to a macro brothel drowning in corruption.
I feel it is important to share the how and why this documentary came into fruition. It is quite simple. I left Australia two years ago and moved to Castelldefels a popular beach side town about 20 mins drive from Barcelona and close to El Prat Airport. It is nice, there is a small town, a long beach popular for all sorts of water sports and family vacations. The town of near 70,000 is home to celebrities such as Messi and Suarez and very, very wealthy residents from all over in particular a large Russian community. The private winding mountain roads are populated with what I call 'Mc Mansions' left vacant and an impossibly expensive real estate market pricey enough to shock Sydney.
My first week here, I saw a lot of retirement homes, mobility vehicles, zimmer frames and thought it could be a retirement town. Wow, how wrong was I! My first stop was a bike store (later, I discovered it was a brothel before the bike store due to its strategic location on the highway) on the C32 highway to change tyres. While I waited for the guy to change my tyres to those suitable for road biking, I left to look how far and how steep my new cycle route would be. It was then I first noticed a plastic white seat with a very young, pretty, blonde girl sitting on it. Literally, two minutes later a guy speeds up to her, they seem familiar already and there isn't much of an exchange before she jumps in and speeds off. Again, no more than a few minutes later I see a young Latin American woman leave an apartment block and walk down the street, in a tight dress, very high heels, a small bag big enough for a mobile phone and few other things. She walks past me, we lock eyes, she looks embarrassed, I look away. She walks to the highway and takes the white plastic seat, 15 minutes later a car picks her up. It was 'siesta' time between 2pm-5pm, a peak time for picking up the many young immigrant women that work on the open roads throughout Catalonia.
About then a cab pulls up and asks if I need to go anywhere I tell him no I am waiting for my bike to be fixed. He asks where I am from I reply Australia, the usual 'it is so far, 'muy lejos' and questions about kangaroos and crocodiles. The usual. So, I ask about the plastic seats, the girls and the town. He tells me years ago there were more, but now they closed down the large macrobrothels 'Riviera' which housed about 160 women and 'Saratoga' which was apparently the 'high end' option for business men and football players. He furthers there are lots of girls working from apartments and that everyone knows where these are, he mentioned a Casa del Campo, an outdoor type brothel further towards Gava.
The next morning I cycle towards Gava, I pass another young girl blonde Eastern European girl on a plastic seat, ironically the plastic seat has a bike chain locking it to the post directing drivers to the beach and I look opposite her on the highway and see a 'morena' a brunette on another white plastic seat. You get the picture, I will tell you more about this later on but some background on Castelldefels.
It began as a town where wealthy Catalans bought a house for their 'amantes' (mistresses) due to its close proximity to Barcelona. A policeman who provided me with information on prostitution in Catalonia and in particular Castelldefels explained that the one story houses were the typical style for 'amantes', again dotting the famous C32 highway, this was the trend in the 1930s.
In the 1950-60's many brothels started popping up very discreet but with several rooms from then on with the demand they got bigger. Then in 1980's-90's it was the rise of the macrobrothels and clubs, replacing discos and normalising prostitution even more.
Castelldefels, before the infamous La Jonquera and 'The Paradise' was the site of the largest macrobrothels in all of Spain.
After, reading everything I could on the closure of the Riviera which was both shocking and confusing I couldn't stop myself from investigating further. My first steps were to find some facts about this so I looked for crime impact reports and read the reports from The American Consulate Trafficking in Persons Report (TIP).
I read the crime impact report upon closure of the Riviera in which crime and delinquency reduced in Castelldefels by 30% and the TIP report which states that at least two minors were found working at the Riviera and a 'breakfast' bust by National police found 59 undocumented women working there.
What is so shocking about the Riviera is the level of corruption, not just the police corruption but the town opportunists taking advantage from town planners, doctors visiting once a month to take blood, the children of police officers working there in managerial positions.
But, perhaps the most shocking fact was that the Head of The Immigration Unit and his wife were heading an extortion gang. Twenty National Police were charged with corruption in relation to this brothel.
To be clear, the famous Riviera (& Saratoga) was closed due to police corruption not because minors were found working there or trafficked individuals.
Fast forward two years, I am still living here. The blonde girl below the 'platges' (beaches) sign is still there from 12.30 everyday. She looks maximum 23 years old. Everyday her pimp is there in a different car. I have seen her everyday for two years.
My neighbours tell me she has been there for absolute years. They point to her pimp watching us from a car. I tell them I know, it is obvious. I met another woman walking her dog and ask her how long the girl has been there, she tells me at least six, as she has been living there for twelve years and knows all of their faces. She tells me about a club on the beach, where she has seen all of the girls who work on the highway in the evening.
It is geared for the older patron. I check the Facebook page for the club and see that these girls have 'checked in' and reviewed the club as a great place usually accompanied by a provocative picture.
The girl, on the seat to me represents all of these immigrant women on the roadsides. We see them and drive past them and accept that that is how it is in Spain. Patriarchy unchallenged and plenty of women suffering on the margins. The gender violence and sexual exploitation that prostitution is, it's not a job, it's oppression.

I met with a social worker who runs reinsertion programs for sex trafficking victims in Barcelona. She explains that there often isn't any available intervention unless a woman has 'golpes' looks beaten or there has been a robbery between her and the client.
I ask her about the 160 girls and women who were working at the Riviera and if she helped any of them in her program. She said by the time she reached Castelldefels all of them had been hidden and not one was met for interview.
I mention the minors in the TIP report, she didn't know. Later on I speak with my police confidant who tells me to be very careful and that the people who ran the club were not nice people and still around. I know.
If you have been interested reading this blog please visit our crowdfunding page at indiegogo Horns On the Woman & joing the converations on SM https://www.facebook.com/hornsonthewoman/
Please #Donate a few if you can!
https://gogetfunding.com/hornsonthewomandoco/
You can learn more about this area by watching this short video created by the #HornsOnTheWoman Documentary Team. https://vimeo.com/290685357
There are some incredible people working so hard in the education sector, law, and human rights to try and right the situation in Spain, I have spoken to many of them. This film isn't one to make money, we don't have the money that the sex industry and mafia does, so your donation whatever size will help to make some change. If you can't give right now, I understand, please SHARE this story with your contacts.
IU proposes a law to eradicate sexual exploitation through the triple way of raising penalties for pimps, fining "clients-prostitutes" and improving communication (English Translation @ Alison Wilson ES Original link below).
Isabel Salud, deputy and spokesperson for the United Left in the Equality Commission, said in the presentation of the initiative in Congress that "one of the central elements is to eliminate the demand; if there is no demand, there is no prostitution, that's why we should attack there "
Izquierda Unida has registered today in the Congress a proposal of organic law with the aim of eradicating prostitution throughout the State.
The initiative clearly focuses on three main actions: raising penalties for pimps up to a maximum of five years, the disappearance of the image of women as 'sexual objects' in the media, as well as various legal modifications to sanction with high fines to the so-called "clients-prostitutes".
The deputy and spokesperson of Izquierda Unida in the Equality Commission, Isabel Salud, who signs the initiative with Alberto Garzón, has been in charge of registering it officially. She was accompanied by different heads of the Women's Area of IU, such as Charo Luque, as well as by representatives of associations such as the 'Commission for the Investigation of mistreatment of women', the 'State Platform for the Abolition of Prostitution', the ' Feminist Party 'or the' Feminist Policy Forum ', to whom "it thanked in the name of Izquierda Unida" its direct participation in the elaboration of the definitive text.
Salud reminded the media in statements in the lower house that the attempt to eradicate prostitution is a "historical claim of the United Left", a formation that already included this proposal as a special vote in the Pact against gender-based violence, which was supported by a majority.
That is why he also showed his confidence that this bill has enough support from other parliamentary groups to pass the filter of consideration and then be able to be discussed with confidence.
The Basque parliamentarian of IU pointed out that this is a "very concrete" proposal.
The reform of the Criminal Code seeks to raise the punishment of pimps, those who "act as intermediaries between the so-called 'sex industry'" and "criminal organizations that distribute women and children brought by brothels from other countries and clubs that exist throughout Spain ".
"We propose," he said, "that the sentences for this figure should be between one year and five years in prison," after assessing that the Criminal Code is not very clear on this issue.
Second, he explained that the initiative reflects the intention to eradicate from the media those contents that present women only as a "simple sexual object," especially because of the importance of these same means to "transmit values, as well as to improve education and knowledge "of all.
Isabel Salud explained in third place that the proposal raises the need to "punish the client-prostitute" instead of women who are forced to practice prostitution and who endure "a situation of greater vulnerability."
"One of the central elements to eradicate this practice," he said, "is to eliminate the demand. If there is no demand, there is no prostitution, that's why we should attack there. " Thus, the text of the new rule calls for changing the Citizen Security Law to include a reform that contemplates as a "serious" penalty resorting to prostitution, with fines ranging between 600 and 30,000 euros.
Salud also indicated that prostitution has a direct link with the "extreme violence" that women endure, given the "relationship of power and domination" that occurs unfailingly with their practice.
Alerted that "in Spain has increased prostitution" in recent years and attributed it to have sharpened their characteristics as "sex tourism destination", while the phenomenon has worsened that "more and more young people use prostitution to have a good time ", without taking into account everything that this practice entails.
HORNS ON THE WOMAN
DENOUNCING A HUMAN TRAFFICKER - DENUNCIA & THE DANGERS OF BEING A VICTIM OF SEX TRAFFICKING IN SPAIN.
Not all human trafficking networks use the same method to entrap victims. Often women & girls are most betrayed by their boyfriend, family, or a close confidant. Romanian women make up the largest number of sex slaves in Spain.
However, speaking with NGO's in Barcelona it appears women from Sub-Saharan Africa are now in 'demand'. When Nigerian women are trafficked to Spain they arrive with an enormous debt usually around 60,000 EUR.
They must work as prostitutes to pay off this debt.
If they try to leave and denounce their trafficker, their life and their families back home becomes extremely dangerous. Women who have denounced their trafficker in Spain has resulted in their entire family murdered back home. This happens, it happened recently.
These women are the most unprotected in society,
the law doesn't protect them,
their identities are not private when they attempt to gain justice in the courts,
they are without papers and live with trauma.
There is no Hollywood, no witness protection program.
In reality, It is often a handful of dedicated social workers and NGO's doing all they can to support them through their ordeal.
Spain's laws need to change. Pimps and traffickers need to be punished. Men need to stop buying girls on their way home from work.
You can find the CROWDFUND page for the Horns on the Woman Documentary here: https://gogetfunding.com/hornsonthewomandoco/
OR (if still open when you read this, May 2019) https://www.paypal.me/alisonwilsonHOWDOC
#endthedemand #humantrafficking #Spain #Catalonia #sexslaves #minorities #humanrights #sexabuse #education #adolescents #boys
#socialchange #girls #rumania #Immigrants #nigerians #chinos #chinese #asianwomen #blackwomen #womenofcolour #ley #law #sexbuyerslaw